All Day Hands-Free Technology
Hearing Like You've Never Imagined
Phonak receiver-in-the-canal (RIC) hearing aid has launched the latest in hearing assistance technology, bringing universal binaural sound to virtually any form of Bluetooth streaming with a unique sound classification technology resulting in clear sound like no other.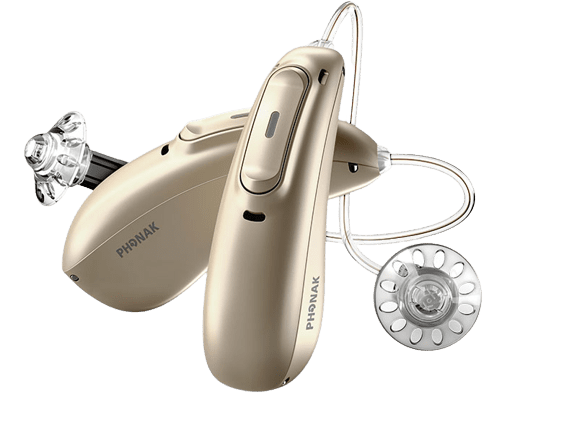 Check Out Phonak in Action
Impressive Sound Quality
When we say love at first sound, we don't just mean the first time you try them, but each and every time you wear them!
Phonak's binaural sound quality and universality includes the newly developed "Environmental Balance" system, controlling how users hear streaming in addition to how they hear their surrounding environment. Users can adjust both listening environments through their hearing aid's main volume control.
Bluetooth Streaming
Phonak connects to smartphones, TV and more
Phonak's connectivity to any Bluetooth device is supported by Phonak's digital technology, allowing binaural streaming to Bluetooth Classic, Bluetooth LE, AirStream Technology (for TV), Siri, Live Listen and Binaural VoiceStream Technology. This four-microphone technology has improved speech understanding by up to 60% in noisy places and reduced listening and understanding effort by 19%.
Hands-Free Calling
Experience hands-free calls with built-in microphones that pick up your voice.
By a simple push of a button, you can answer or reject a phone call, even if your phone isn't beside you. Phonak technology also allows you to connect to IOS or Android smartphones so that you can set your phone notifications to be heard through your hearing aids.
Rechargeable Lithium-Ion Technology
Enjoy unlimited hearing and streaming. This means no more hassles with disposable batteries! Just charge up and go!
Wearers can now enjoy a full day of hearing aid functionality, including streaming, with a single three hour charge.To save on additional battery usage, this technology has been programmed to automatically turn off when placed on the charger then back on when removed from the charger.
myCall-To-Text
The Phonak myCall-to-Text app allows you to read, in real time, what the person on the other end of the phone says.
The myCall-to-Text app generates live transcription of phone calls in more than 80 languages. This proves beneficial to those with hearing aids to carry on a comprehensive conversation in noisy environments, or for those who would rather have the additional benefit of visual captions while on their phone.
"You need to truly enjoy life"
With Phonak hearing aids, Paul has been able to enjoy the things that matter most to him again.
"An important part in everything"
From real estate to sewing and spending time with her grandchildren, Phonak hearing aids help Helen stay connected to what's important.